19. Oktober 2022 - 28. Oktober 2022




19. Oktober 2022 - 28. Oktober 2022
Sei-ki: Life in Resonance Book Club
with Alice Whieldon & René Fix
6 months – 12 sessions – starting 19th October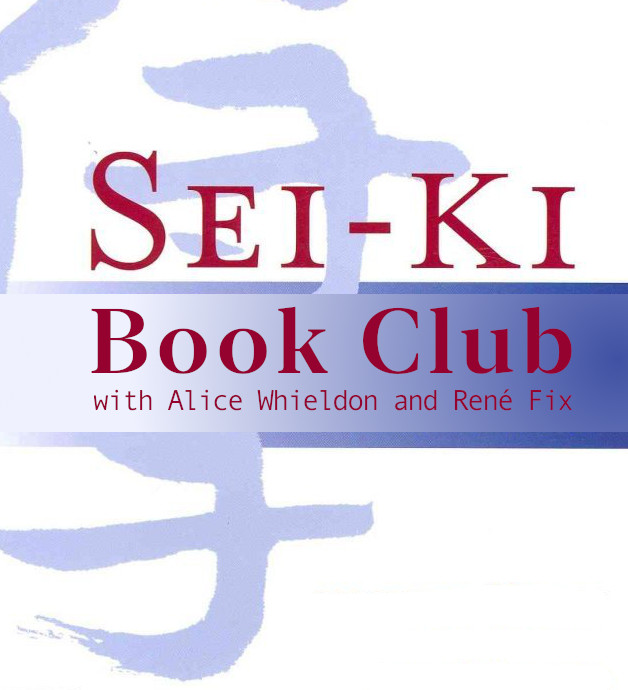 Since submitting Sei-ki: Life in Resonance to the publisher in 2011, I (Alice) have rarely picked it up, but when I do so, I am struck by the book's clarity. Writing it was sometimes tricky, for Kishi, Kyoko and for me; it was also a rich and sometimes exhilarating experience. Yet all that quickly seemed like a dream; the book seemed to appear out of thin air, as if it only needed to be coaxed onto paper to manifest materially. I have long wondered what it would be like to go over it again, in detail, and a distance of 11 years seems about right.
The book is not ours, mine and Kishi's – from the moment it came out, it belonged to the world. So it seems appropriate to invite the world, the Sei-ki Community, to walk alongside me in this exploration. I am joined by René Fix for a different perspective and as a nod to the future and the continuation of this art of touch helped by a book that came out of a momentary inspiration.
You are invited to join us in a 6 months, live, online Book Club dedicated to the discussion of this seminal book. Evenings will comprise a presentation on sections of the book, feedback and discussion.
We aim to link discussion with the felt experience of Sei-ki, giving and receiving and to its life-changing effects.
You will need to have a copy of the book:
Sei-Ki: Life in Resonance – The Secret Art of Shiatsu
ISBN 978-1848190429
It is available English, German, Italian or French.
The talks will be in English and the discussions will be in different languages in small groups and in english when we meet in the large group.
Each evening is scheduled for 1.5 hours and will be followed by a 45 minute Surrenderpractice which is not compulsory and is open to a wider audience. The evenings begin at 17.00 UK time (5 pm), 18.00 CET
---
Hinweis: Dieser Onlinekurs ist als Weiterbildung ausgeschrieben. Du erhältst eine Teilnahmebescheinigung mit ausgewiesener Stundenzahl.